The Lightbox enables a new way of communicating with the city and population. Installed on footpaths within a city, it informs pedestrians about relevant information of its direct surrounding. That information could be the public transportation options, the air quality or the use of electricity in the neighbourhood. During the nighttime it also becomes a light which breathes slowly and supports people on their way, changing colour and speed of pulse, depending on the time and the amount of traffic.
The creation of Lightbox started with a request of the Deutsche Telekom asking for a redesign of the MFG-Box (Multifunctional Case) which is used to provide telecommunication services to the surrounding area. As the infrastructure of those boxes is very high, it makes total sense for us to use them.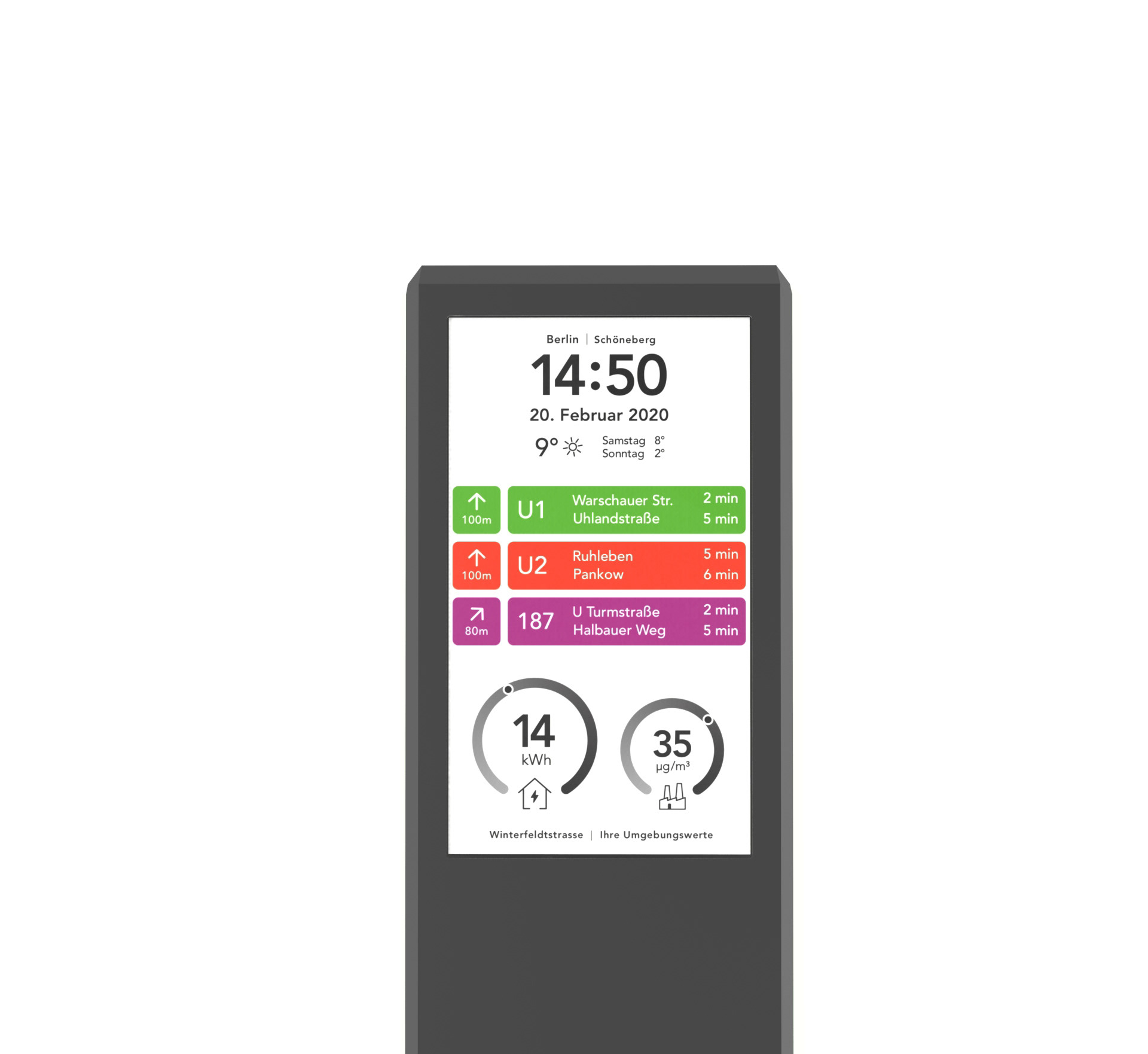 The Lightbox has two main functionalities: Light up public space according to the time of the day, the frequency of pedestrians on the street or other parameters. The breathing light creates the feeling of the pulse of a city and displays its heartbeat throughout day and night. The Interface on the sides of Lightbox displays location-based information for people walking by including tourists, residents, as well as children or older generations without any access to smart devices that offer this information. Thereby, we aim to connect people in a new way by giving them information about local hotspots, sights or news to get a better feeling about what's going on in their neighbourhood. While the current version has no direct value for residents our redesign aims to bring the city and surroundings closer together. With our redesign, we aim to give the MFG-Box a broader functionality and contribute to a better life quality in future smart cities, that focus on people.
Our Smartphone accompanies us every day and has the possibility to display us an incredibly wide range of information. In contrast, screens in public spaces and cities usually show static information, advertisement or public transport feeds through LED panels. The digital revolution did not take place in urban structures of Germany despite a few exceptions. The Lightbox is, therefore, a way to inform people on subjects that are relevant for everybody in their current situation and location. So there is no need to obtain this information from private smartphones. Furthermore, the light box is a new way for a communication, for instance, with government services and the residents of a city. Truly location based Information can become an efficient way to address a specific part of a city and their inhabitants as they share relevant data. Showing the energy consumption for a specific street can create a competition between their residents so that wastage can be reduced. We believe that location based information may bring residents closer together, and strengthen their solidarity and communities in neighbourhoods.